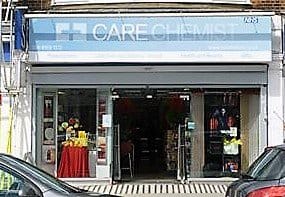 Mill Hill – Private Microsuction Ear Wax Removal In North London NW7
Our Private Microsuction Ear wax Removal Clinic in Mill Hill can be found:
within Care Chemist
31 The Broadway
Mill Hill
London
NW7 3DA
You will find us in between WH Smith and the Halifax and opposite Cafe Broadway and Mill Hill Fonehouse. The pharmacy is about 2 minutes walk from Mill Hill Broadway station. Our clinic is in one of the comfortable consulting rooms located on the ground floor at the back of the pharmacy.
Microsuction Mill Hill North London Location and Directions
You can find our Microsuction Mill Hill North London Location on Google Maps here.
You can get directions to our Microsuction Mill Hill North London Location here.
Nearby Clinics
In North West London HA5, we have our Pinner Microsuction Ear Wax Removal Clinic in North West London HA5.
In North London N2, we have our East Finchley Microsuction Ear Wax Removal Clinic in North London N2.
In North London NW11, we have our Golders Green Microsuction Ear Wax Removal Clinic In Central London NW11.
Appointment Booking
Due to high demand, private ear wax removal is by appointment only. You can book an ear microsuction appointment here, or click on the Book Now button below:
Parking
There is usually pay by phone on-street parking available outside for up to one and a half hours. There is long stay parking nearby at the Mill Hill Broadway station car park.
Our microsuction ear wax removal clinic in Mill Hill also serves clients in North London, Northwest London, Edgware, Stanmore, Bushey, Watford, Harrow, Wembley, Colindale, Finchley, North Finchley, East Finchley, Southgate, Finchley Central, Brent Cross, Barnet, New Barnet, Elstree, Wealdstone, Harrow Weald, Belmont, Cockfostrrs, Hadley Wood, Highgate, Golders Green and Hendon.
About Mill Hill
Mill Hill is a mostly residential area in the borough of Barnet, with Edgware to the west and Finchley to the east. The Broadway referred to in the station's name is a pleasant local high street that stretches away to the east, with plenty of independent stores as well as a few big-name shops and restaurants. A little further west, a cluster of green spaces – Mill Hill Park, Arrandene Open Space and The Mill Field – provides some balance to the local shops and housing.
Microsuction vs. Ear Syringing
Many people in North West London are finding that their local GP surgery no longer offers ear syringing. No doubt this is partly due to a lack of funding, but also because ear syringing is inherently less safe than ear micro suction. Possible side effects of ear syringing or irrigation are ear infection, hearing loss, tinnitus, perforation of the ear drum, and further impaction of the ear wax (i.e. the ear wax gets pushed even harder against the ear drum). Is it any wonder that people are going off walk in ear syringing in London and are seeking out microsuction ear wax removal instead? Unfortunately, the sharp rise in demand has meant that NHS micro suction clinics are now unable to meet the need and waiting times are often over two to three months.
You no longer need to wait months for micro suction. Why not save time by going private? It's not as expensive as you think. Simply head to our booking page and you could be saying goodbye to your wax blockage this week!
Mill Hill Micro Suction Clinic Prices
WE REGRET THAT DUE TO COVID-19 OUR PRICES HAVE GONE UP. IN ADDITION TO THE HIGH COST OF PPE, WE MUST NOW SET ASIDE AN ADDITIONAL MINIMUM OF 50% OF THE APPOINTMENT TIME TO DOFF AND DON PPE AND DECONTAMINATE SURFACES IN THE ROOM. WE HOPE YOU UNDERSTAND THAT THESE ADDITIONAL MEASURES ARE FOR YOUR SAFETY.
One or Both
Normal Price
Online Discount
Online Price
One ear (or wax too impacted / no wax)**
See our new online booking system for prices and times
Both ears (or wax too impacted / no wax)**
See our new online booking system for prices and times
Upgrade from one to both ears
Upgrade from one to both ears no longer available due to strict guidelines on appointment times
**Consultation only (no wax present / wax too impacted)
If no wax is present, we will provide a complementary hearing test at a later date after the Covid-19 Pandemic

36 hours notice required for alterations and cancellations or NO refund will be given.

Non-attendance is charged at the full price.

Thank you.
Home Visit Prices
We also perform ear wax removal in your home, care home or nursing home. If you cannot come to us, we will come to you. Due to the additional time and travel costs, the price is higher than a clinic appointment.
Home Visit (one or both ears): £150
Home visit, multiple patients discount
For multiple patients at the same address, we offer a sliding scale discount as less travelling is involved. Please book well in advance.
| Number of patients | Price per patient |
| --- | --- |
| 2 patients | £130 each |
| 3 patients | £120 each |
| 4 patients | £110 each |
| 5 patients | £100 each |
| 6 or more | £90 each |
Find your nearest clinic:
[locatoraid]